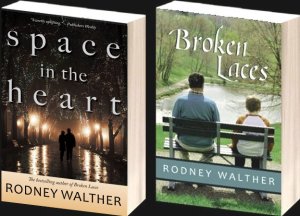 ---
SPACE IN THE HEART
Buy Paperback
Buy Kindle
Before his wife was murdered, astronaut Garrison Sterling couldn't wait to rocket into space on his first shuttle mission. Now he merely survives, one day at a time, blaming himself for the events that put his wife in a grave and his daughter Zoey in a wheelchair. And he struggles to raise Zoey, a headstrong teenager who longs for independence and rebels against his overprotective ways.
Danica Cortez, Houston's favorite morning news anchor, dreams of practicing real journalism instead of forever reading teleprompters. When she witnesses a plane crash and rescues the only survivor--a U.S. Senator--Danica becomes a national hero. But her journalistic instincts tell her that there is more to the story, leading her not only to confront a powerful politician but also to face the greatest regret of her past, her role in the tragic story that launched her career.
When Garrison and Danica meet, they sense an instant attraction. They take those tentative first steps toward love even as they wrestle with competing priorities: the needs of his daughter and the demands of her career.
Now their journey, like his planned spaceflight, might be over before it begins. Because a dark secret threatens to destroy their relationship. Forever.
---
BROKEN LACES
Buy Paperback
Buy Kindle
When Jack, a rich suburban workaholic, loses everything – his wife, his career, his faith – he is forced to face his inadequacies as parent to his young son Kellen. Can the game which derailed his life's plans in high school be the source of his renewal, or will he repeat the errors of his youth? Will Little League, replete with its own challenges and quirks, offer this broken man the chance to rebuild damaged relationships between father and son? And can he learn to love again?
Recognized in multiple writing contests, BROKEN LACES explores the importance of father-and-son relationships, the struggles of shared grief, and the redemptive power of baseball.

Read the award-winning first chapter

Read comments from the judges